Participation to the Third NEA workshop on stakeholder involvement: optimisation in decision making organized by OECD/NEA
From 5-7 September 2023, NPO Fukushima Dialogue participated in the Third NEA Workshop on Stakeholder Involvement: optimisation in decision-making, held at the OECD headquarters in Paris, France.
Stakeholder involvement, in which decisions are not made in a top-down or centralized manner, but includes all affected audiences, is a movement encouraged around the world, particularly in Europe and North America to find workable solutions in complex risk situations. This was the third stakeholder engagement workshop organized by the NEA. Key participants included national nuclear regulators, research organizations including international organizations, and academic researchers. A novelty of this year's event was the large number of representatives from civil society, including NGOs like NPO Fukushima Dialogue. In total there were around 120 participants from 29 countries.
At this occasion President Ando spoke about the view of the NPO at the session devoted to the first phase of the decision-making process entitled: 'The Preparations and framing of the problem statement and development of a holistic approach through stakeholder involvement'. In her speech she highlighted the experience acquired during the Dialogues which make them specific and their interest from the point of view of the commitment of the actors: "In daily life people take many aspects into account when they decide something. It is impossible to judge something with only one aspect in our ordinary life. Science is important, but we should keep in mind it is only one dimension. For us, Holistic approach means taking into considerations all aspects of the daily life. To do it, we need long discussions, on-going dialogues i.e. listening carefully to each other. Without dialogue nothing can be shared due to the tremendous complexity of life. This is the vital condition for the holistic approach."
At the end of the workshop, Mr. Magwood, Executive Director of the NEA, delivered his greetings. He noted in passing that the NPO Fukushima Dialogue's contribution to the workshop on the importance of taking a broad perspective on stakeholder concerns is essential to solving the complex problems that decision-makers often face. He also confirmed that the NEA will continue to engage in discussions with NGOs and civil society to promote stakeholder engagement.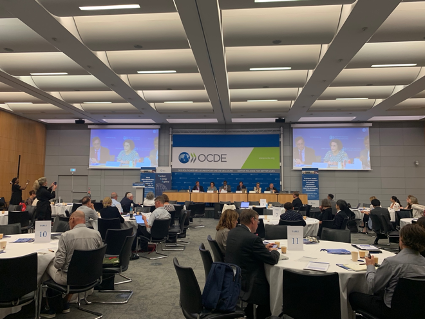 After the workshop, a small informal meeting of NGO participants was held, where NGO and civil society participants could interact and share their impressions of the workshop. They express the wish to participate to this kind of event with preferably the support of private organizations and also decided to continue to keep in touch with each other online by establishing a mailing list.
NPO Fukushima Dialogue would like to express its sincere thanks to IRSN for supporting it travel and accommodation costs to participate to this OECD/ NEA workshop.
---