Fukushima Daiichi Nuclear Power Plant (FDNPP) Accident caused a huge and lasting damage to Fukushima Prefecture.
NPO Fukushima Dialogue was formed to assist recovery and rehabilitation efforts through enhancing dialogues among those affected.
We believe in the power of a dialogue― sharing stories and listening to each other's opinion- as the best way to make sense of what actually happened, which in turn helps us build a better society and to pass on the lessons learned to the future.


Fukushima Dialogue is not a meeting (kaigi) held to reach some kind of a conclusion/consensus or to develop/decide a course of action.
It is based on a very simple concept: anyone who wishes to learn, share, talk or hear about what is happening in post-accident Fukushima can participate. It is just a meeting of people to listen to each other's view and exchange thoughts and opinions.
NPO Fukushima Dialogue carries out
the following to ensure these dialogues
continue to be held.:
・Preserve and pass on the results of the past dialogues
to the next generation.
・Continue planning and organizing Fukushima Dialogue to provide
a venue for people to share their thoughts and current situations.
・Maintain the local and international network formed through
ICRP Dialogue Seminar and Fukushima Dialogue.
・Ensure that local leadership takes initiative in these activities.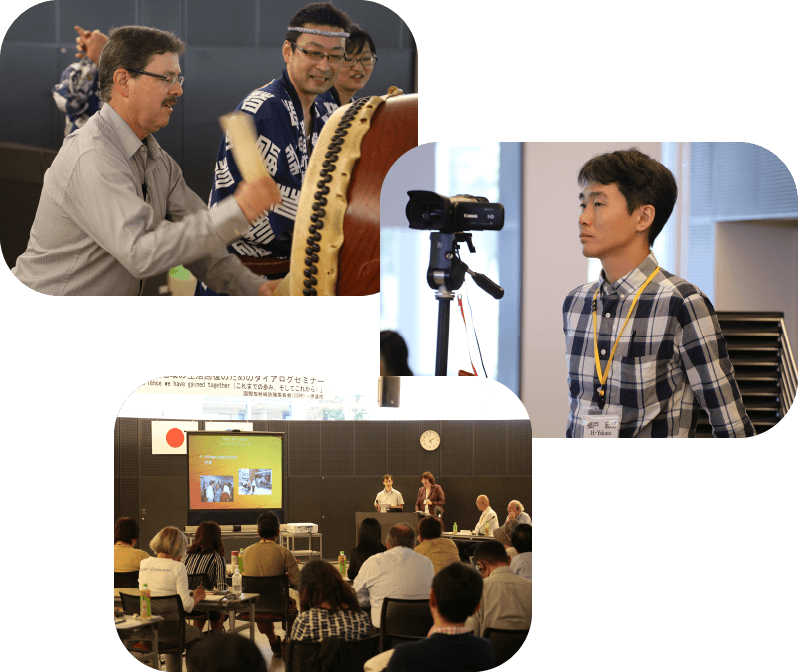 FDNPP accident created deep divisions among people in Fukushima. Thus, exchanging and sharing opinion has become ever more important. Dialogues enable us to examine what separates us and seek its underlying causes.
We know from experience that such undertaking can help us a lot as we struggle to rebuild our lives shattered by the accident, and to start thinking about our future while trying to adapt to a changing environment. It is not visible or measurable, but knowledge and understanding gained through these exchanges have been substantial and helpful in regaining control and dignity.

FDNPP accident was a devastating event that will be marked as great disaster in world history. Yet we are determined not to let our experience be told as just another sad story. We would like Fukushima to be a birthplace of new thinking and value based on what happened.
Through Fukushima Dialogue, we aim to pass on our experience to the future generation. And the dialogues will keep providing opportunities for people to form new ideas and values. We believe the continuation of the dialogues will contribute to a better and kinder society.
We are seeking partners who share and support our views. Let us engage in activities for a better future.

Please refer to the link to become a member of NPO Fukushima Dialogue.


All activities of NPO Fukushima Dialogue are financed by membership fees, operating revenues (including government grants), and donations from the public.
We would like to build on our past activities and continue working steadily so we may contribute to the long-term reconstruction process of Fukushima.
To do so, we would like to enlist the financial support from the public, both Japanese and international. Your kind consideration is very much appreciated.
We accept donation through Paypal payment service from international supporters. If you have any questions to make international contribution, please send an email on
.

●Donate with PayPal




In 2020 we launched a new project named "The Dialogue Kiroku Project". As of today, the vast records from the ICRP dialogue seminar and Fukushima Dialogue have not been preserved with future use in mind. The Kiroku project aims to classify and re-organize the information so they may be passed on to the future generation. We plan to post reports on a regular basis, in both Japanese and English. At the end of 2020, a booklet will be published and distributed to those who request.
Our aim is to record the trajectory of what happened in Fukushima after the nuclear accident, focusing on the thoughts and actions of the people who lived in Fukushima at the time. ICRP Dialogue and Fukushima Dialogue encouraged people to speak about their actual experiences in daily lives, from a wide range of themes, from food safety to return to evacuation zones, etc. We are committed to reflecting the voices of ordinary citizens and their actual challenges/experiences in daily life throughout Kiroku project.
Kiroku project has been adopted as a recipient of Fukushima Prefecture's grant to support rehabilitation activities.



Links of ICRP Dialogue (from 2011 to 2018)
Records of Fukushima Dialogue in 2019